---
The Proof is in the Pudding!
What exactly does this have to do with our breeding program? Let me explain!
We believe that the litter turnout rate is proof of a sound breeding program.
For the sake of time and simplicity, our preferred methodology utilized in our breeding program is the 'selective breeding process.' According to 'Giulani' (IL Cane Corso), "the applied technique of individual selection consists in the genotypical valuation of the animals to be bred and in the identification of those which will improve the breed, with the intention of forming, through isolation, selective families or lines.
And the only way to demonstrate the genetic value of an animal is through his "offspring" (Thus the proof is in the pudding).
Since the Development of the Cane Corso by the Roman Army during the 1st Century to be a Dog of War the process used to develop, advance, and at times maintain was/is the selective breeding process.
Each time certain mishaps in history or where the selective breeding process is misused the Cane Corso inevitably suffers and decays into a sort of mongrelization. Which was very true in the 1970s and '80s when S.A.C.C. rediscovered their passion for this Light Molossoid.

Fortunately, Cane Corso aficionados like Professor Bonatti knew the traditional techniques used for millennials to began to reawaken the Cane Corso once more. 
Professor Bonatti advised the next generation of breeders (il cane corso) on how to go about using these highly advanced breeding techniques. Bonatti's wisdom became 'proof' when Bulan and Aliot both mated to Babak to produce 13 homogeneous puppies. Even though they gained success from that particular breeding technique there seemed to be a problem with the Dauna and Brina's breeding in which none of the descendants survived.
That brings us to the next subject of knowing when and how to use certain breeding techniques to avoid situations like the "Dauna and Brian's breeding!

Some breeders may use the outcrossing technique when they run across a similar issue within their program.

There is no set formula for when exactly to outcross and we feel that if one is to use this technique one should do so with intent and knowledge.
For we have seen Dogmen that knew the art of breeding do wonderful in outcrossing just as we have seen some do horrible as well as in the case of Alke and Piciotto.
Again, one must proceed cautiously when bringing in new blood because the injuries to one's program can and will have a devastating impact.

The method Of selective breeding is a much more time-consuming method and indeed most people that only see $$ signs will not put in the time to utilize the selective breeding process.
Now that this is said, let's talk about the other more mainstream technique utilized more by novice breeders.

Many of the opponents of selective breeding techniques simply mate dogs exclusively based on their phenotypic characteristics: that is, the mating of two similar partners who are not related ( also known as like to like).
The results of this 'like to like' technique is an occasional topper in which may be phenotypically valid but genetically bankrupt.
Many people do this type of breeding when they chase show champions. But true dogmen know that this "like to like" technique has no Foundation in which to build a true program.
Besides, proven breeders like Lloyd Brackett (a distinguished selective breeder), who produced over 90 finished show ring champions in just under 12 years using a very small amount of breeding stock, there are many more examples of how these traditional breeding techniques are used to maintain, as well as advance the breed.
With that being said, "there are still a few traditional Cane Corso breeders and when you come across them tell them to thank you for their arduous labor in preserving such a very beautiful breed that is 2nd to none."
LONG LIVE THE DOG OF WAR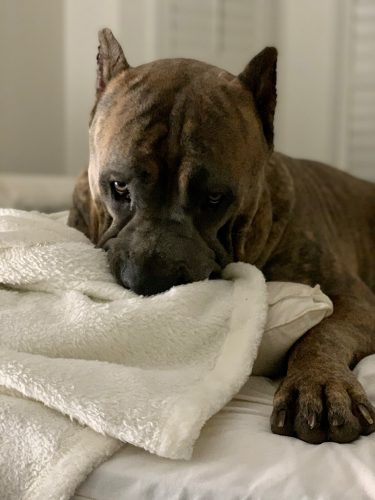 "Gunner reminds me of his beautiful mother Queen Nzinga" He has found him a home out in Texas and is doing very well!